Since the first release of the Windows 10 Preview in the Insider program, I was using the Technical previews on my Surface Pro 3, and it is excellent how Microsoft is improving Windows 10 over the last several months based on research and feedback from the Windows Insider program.
In some days, on July 29, Microsoft will release Windows 10 to the public, and here are some reasons why you will love Windows 10:
Microsoft Edge
With Windows 10 Microsoft released a new browser called Microsoft Edge (before Project Spartan) which is amazingly fast and brings a lot of new features to the table such as Cortana Integration, Web notes which allow you basically draw your notes on websites and share them and Microsoft also promised to enable browser extensions. Secret: you can also switch from a Light Theme to a Dark Theme.
You can also check out the new edge insider preview here: Microsoft Edge Insider
Task View & Virtual Desktop
Most of the IT Pros reading this blog already knew about Task view in the previous version of Windows using WIN + TAB, but only a few other users did know about these features. Microsoft not only improved the Task view, but Microsoft also promoted it much better with an icon in the Taskbar.
In Windows 10 WIN + TAB does not only offer you Task View it also allows you to create and switch between Virtual Desktops. With Virtual Desktops, you can now finally create multiple workspaces on your PC, which should bring you the productivity boost you need. Secret: You can switch between different Desktops using the Shortcut: CTRL + WIN + ARROW (LEFT and RIGHT).
Hyper-V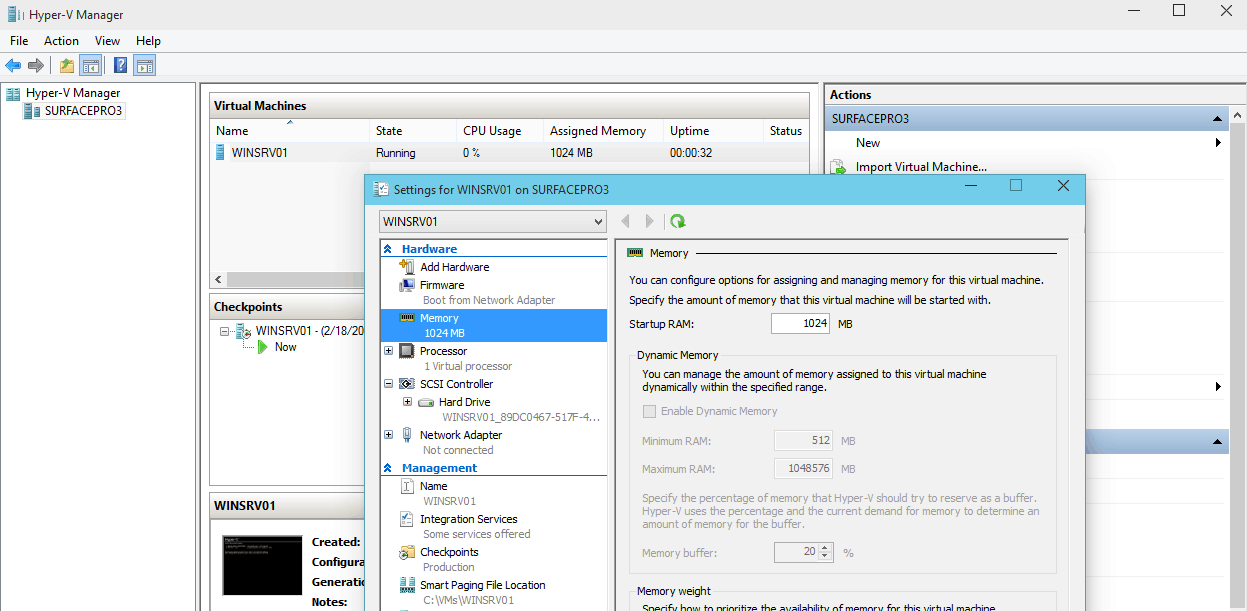 Microsoft builds Hyper-V directly into the Windows Client since Windows 8. This is great if you want to run Virtual Machines on your Windows Client. Windows 10 Client Hyper-V brings you the excellent performance and features Windows Server 2016 Hyper-V will bring you. Of course, some features are only available in the server build of Hyper-V, but you get some great features such as Enhanced Session mode to copy & paste between your PC and your Virtual Machine. Secret: Windows 10 will allow you to run Hyper-V and use Connected Standby at the same time.
Action Center
In Windows 10 the Charms bar from Windows 8 and Windows 8.1 is gone. But you get the new Action Center which you may know from Windows Phone. This will not only show the latest notifications it also allows you to use some great shortcuts for some settings. Secret: You can directly open a new note in OneNote from the Action Center.
Cortana
If you were already a Windows Phone user, you might already know your personal digital assistant called Cortana. Cortana will help you with several daily tasks like a real personal assistant. Cortana will help you to remind meetings, send emails, look up things, show you the right time when you have to leave for your flight or your next appointment. Cortana will also integrate with Office 365 to get more information about your work life and for example, meeting information. Cortana will also be available at your Xbox which will make it available everywhere you are if you are working in the office on your notebook, if you are on the road with your phone or if you are in the living room playing on your Xbox or watching TV. Secret: You can set up a feature called Hey Cortana, so you only have to say "Hey Cortana" and Cortana will open up on your PC without pressing a key.
PowerShell
Windows 10 comes with PowerShell v5 which will bring some great new features to PowerShell and for example a new module called Package Management which will help you to install and script software installs. Secret: You can change the PowerShell console background to be transparent.
Start Menu
Microsoft brings back the old school start menu as default, but with integrated Live Tiles. Secret: You can also switch to the full-screen Start Menu even if you are not using the Tablet Mode if you like the full-screen start menu from Windows 8 better.
Design
Finally, Microsoft worked hard on the overall design of Windows. In Windows 8 we had these two different designs, from the new Windows 8 and the "old" Windows 7. Microsoft did finally cleanup things during the whole operating system.
Ecosystem and Universal Apps
A great thing about Windows 10 is that it is not only design for your desktop, but it is also finally a universal operating system, running on your PC, notebook, tablet, phone, Xbox One and other devices such as IoT devices. Using the same operating system also allows developers to use the same code on several different platforms and make apps available everywhere.
Xbox Integration and Game Streaming
With Windows 10, Microsoft brings a new Xbox App for Windows 10 devices. The Xbox App will allow you to control your games, your Xbox Live account and also allows you to stream games from your Xbox One to your Windows 10 PC. You can also record and share PC game clips using the Xbox App. Secret: You can also power on and power off your Xbox directly from your Windows 10 PC, Tablet, or Mobile.
Great improved Apps
Microsoft finally improved some of the internal apps, such as the calculator app or the Alarm and Clock app, which has some significant improvements and make the overall user experience way better. Secret: The new Alarm and Clock app allow you to compare different time zones.
New Unified Store
Windows 10 also brings a unified Store to all your Windows devices such as PCs or phones, and it now includes not only apps, and it also includes Movies, TV shows, and Music. The new experience is excellent, and it helps you to find apps better and get more information about it.
Microsoft Azure AD Integration
In this fast-growing cloud world and the great story Microsoft has with Office 365 and Azure, you can now also integrate your devices in Azure Active Directory to manage them. Secret: During the setup, you can choose if this is a personal or company device and choose with which account you want to sign it. But you can also add the Microsoft Account or your Azure Organization Account later to your device so you can use both personal data as well as corporate data at the same time.
Tablet Mode and Continuum
Microsoft did some great stuff for desktop users by adding various tweaks and features. But they did not forget about tablet users by adding Tablet Mode. This is great for 2-in-1 devices and lets user switch between desktop and tablet. With Continuum this can even happen automatically when you remove the keyboard from your devices Windows 10 asks you if you want to switch to tablet mode and back. Secret: In the Tablet Mode, you also get a Back button, which will turn you back in the app history.
Maps App
The new Maps App in Windows 10 will not only bring you a great map experience with 3D Maps, traffic information, and much more, it will also allow you to use it for turn-by-turn navigation. The Maps app is also a universal app which will also be available on Windows 10 Mobile. Secret: You can download maps and make them offline available.
HoloLens
Windows 10 does not only run on Desktops, laptops, tablets or Phones, and it also runs on the new Microsoft HoloLens.
Snap View and Snap Assist
Since Windows 7 we all know about a feature in called Snap View which allows you to snap a window on the right or left side of your screen. Now you can snap Windows not only left or right you can also snap them in the different corners so that you can arrange up to four Windows on your screen. With Snap Assist helps you to choose the different Windows on your screen. If you snap a window to the right, Windows 10 will automatically show you the rest of the windows you can snap to the left. Together with the Task View and Virtual Desktops, Snap View makes Windows 10 to a productivity horse.
Battery Saver
If you already are a Windows Phone user, battery saver is a feature you may already know for quite some time, and now Windows 10 got it too. Battery Saver allows you to save power on your notebook or tablet by changing some settings like background tasks and notifications as well as screen brightness. Secret: You can turn battery saver on and off manually, or you can set it to a specific battery charge, and it will turn on automatically, for example, if the battery goes under 20%.
Privacy Settings and Control
Windows 10 not only improves productivity and security; it also lets you fine-tune the Privacy Settings.
Movies and TV Shows
The new Movies & TV app in Windows 10 lets you play, rent and buy videos and movies from your local drive or the Windows Store. Windows 10 not only brings a new app, but it also supports now .mkv files directly. Secret: You can use the "Cast to Device" feature to stream a video or music to a DLNA enabled devices such as your TV or Xbox.
Personalization
Windows 10 brings some great options to personalize your PC.
Command Prompt update
The Command Prompt did not get a lot of attention during the past years, and most people do not even need it. But IT Pros do need it, and Microsoft improved the command prompt and added regular copy and paste (CTRL + C and CTRL + V) to it. Secret: You can change the console background to be transparent.
Windows File Explorer and Quick Access
Windows Explorer got some significant updates to improve productivity too. One of them is Quick Access, which will show you the latest folder and files you have worked on. Secret: You can also pin folders and files to the Quick Access view.
Windows Updates and Schedule Updates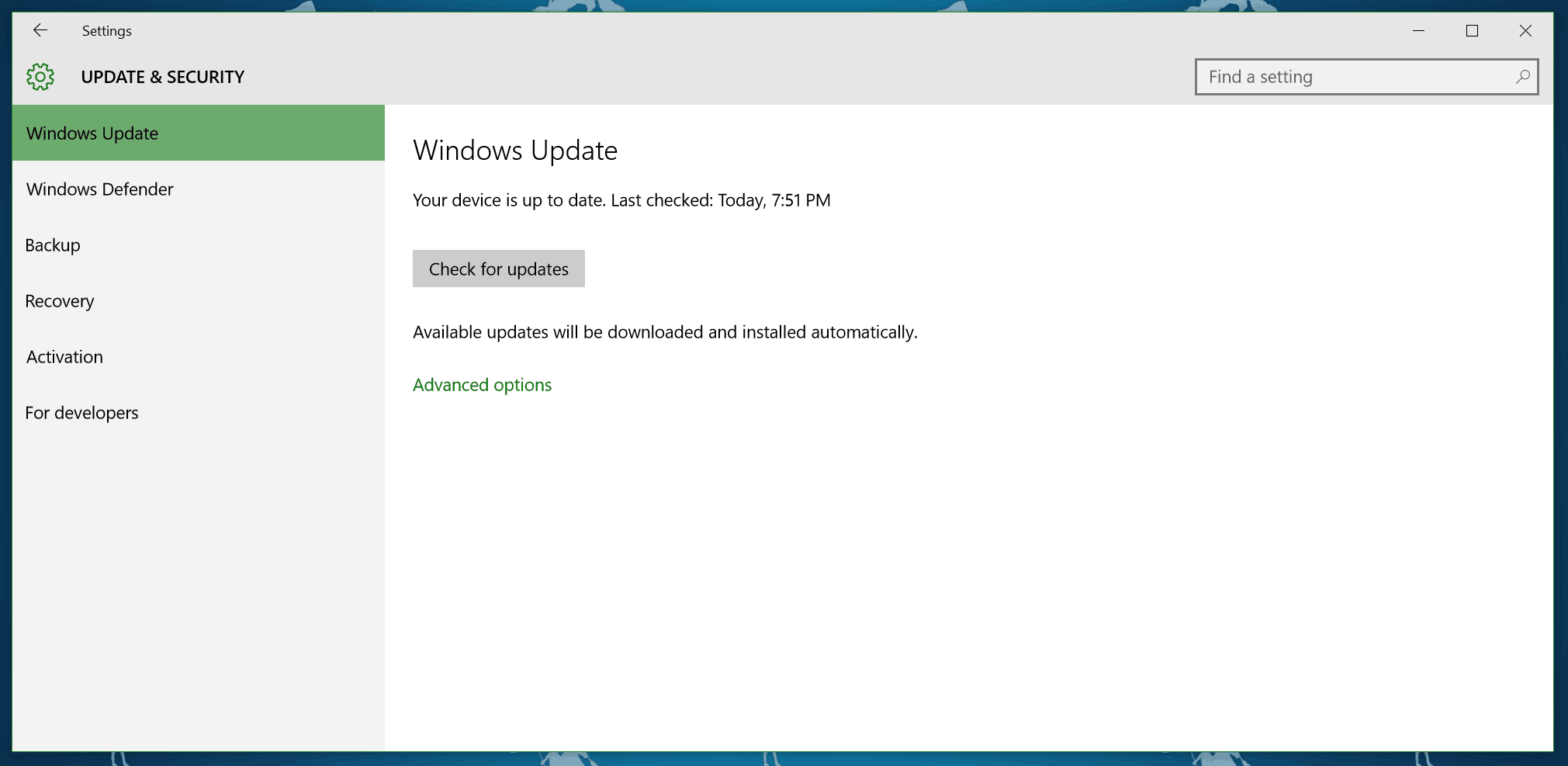 Microsoft improved the update process and allows you now to schedule when updates are installed, and the computer is rebooted. Secret: Windows 10 allows PCs to download updates from other PCs in the network, so you not only have Windows Update as a source. If you have multiple PCs in your network, they will automatically get updates from each other's to save bandwidth. Of course, you can also disable this.
DirectX 12
Windows 10 also gets a new DirectX version, which will unlock new graphics performance for games and applications. It also should lower power consumption during games.
Windows Hello
Windows Hello will bring you a new level of security. It will allow you not only to sign in via fingerprint reader it will also allow you to sign in into your Windows PC using a special camera which recognizes your face. This makes you not always type your password into your machine, which improves security.
Unified Settings
With the design cleanup in Windows 10, Microsoft also created a new unified settings app where mostly all the settings from Control Panel are available now. Secret: You can open the settings app via Start Menu or Action Center.
Contact Support app
The Contact Support app is integrated right into Windows 10. This makes it easy for users to request support from Microsoft directly.
Phone Companion
The Phone Companion app helps you connect your phone to your Windows 10 ecosystem and helps you set up your phone. Secret: The Phone Companion App does not only work with Windows Phone or Windows 10 Mobile, but it also helps Android and iOS users.
OneDrive Integration
OneDrive is everywhere. As in Windows 8, OneDrive is connected to everything and helps you to sync and backup settings and files between devices using the Microsoft Cloud. OneDrive in Windows 10 got a new sync engine which improves sync and offline availability of files. You now have to choose which folders are synced to your device. Secret: With Windows 10 Microsoft also broth back a feature called "Fetch my files on this devices". If you enable this feature on your Windows 10 PC, you can access the files on this PC from anywhere using the OneDrive web portal on OneDrive.com
Groove Music
In Windows 8, Microsoft released an excellent service called Xbox Music. With Windows 10, Microsoft improved the Music app and renamed the service and apps to Groove Music. Secret: Groove Music lets you also play Music which you have stored on your OneDrive using streaming.
Photos App
The new Photos App in Windows 10 also brings some significant improvements, it not only fetches pictures from your local pc and OneDrive, but it also includes a lot of new editing features and filters. Secret: The Photos App has a unique and powerful auto enhancement feature included, which will enhance your pictures and make them look even better. Of course, it does not change the original, you can always go back to that version.
Office Mobile
With Windows 10 Microsoft also releases some new Office Mobile apps for Windows 10 and Windows 10 Mobile. These apps are great, especially if you are using them with touch. You also get some great new productivity apps which are not included in the Office Suite but directly in Windows 10 like a new Outlook Mail and Calendar app, which have some significant productivity improvements.
Insider Program
Find my Device
You can enable this feature to check your location of your device online on the Microsoft website. If your device gets stolen or you just lost it, you can track your device.
Even Windows 10 is RTM now, Microsoft is going to improve Windows 10 and add new features. You still can be part of the Windows Insider program to get new versions first and give some feedback.
I hope you like this short overview, tell me what's your favorite feature and comment if I have forgotten one. Windows 10 will be available as a free upgrade for Windows 7 and Windows 8.1 users starting July 29.
Tags:
Action Center
,
Azure
,
Azure AD
,
battery Saver
,
command
,
Continuum
,
Cortana
,
Design
,
Egde
,
Explorer
,
Feature
,
features
,
Groove Music
,
HoloLens
,
Hyper-V
,
Insider
,
Maps
,
Microsoft
,
Microsoft Edge
,
Music
,
Office
,
Office 365
,
Office Mobile
,
OneDrive
,
Phone
,
Phone Companion
,
Photos
,
PowerShell
,
Snap Assist
,
Snap View
,
Start
,
Start menu
,
Store
,
Tablet Mode
,
Task View
,
Universal
,
Universal App
,
update
,
Virtual Desktops
,
Windows
,
Windows 10
,
Windows Hello
,
Windows Insider
,
Windows Store
,
Windows Updates
,
Xbox
,
Xbox One
Last modified: June 17, 2019