With Windows Admin Center you have a great new web-based management experience for Windows Server. With Microsoft efforts to bring Hybrid Cloud capabilities closer to your on-premises systems, they added support for Azure Backup in Windows Admin Center. This allows you to simply configure Azure Backup for your Windows Server with a couple of clicks.
Setting up a cloud backup of a server is simple and saves you a lot of time and resources. It is especially great if you have a small environment in your datacenter or hosted at a different service provider, where having an own backup infrastructure doesn't make much sense.
Configure Azure Backup in Windows Admin Center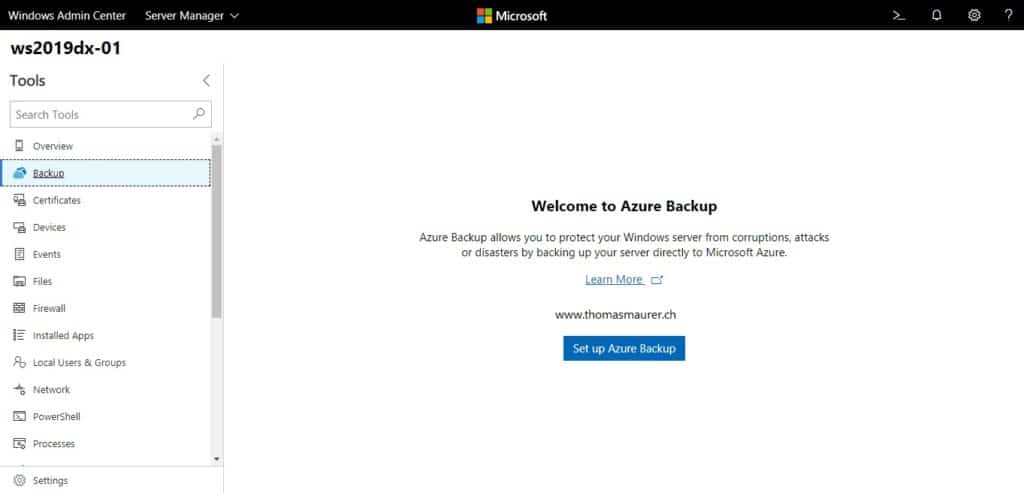 First you will need to register your Windows Admin Center to Microsoft Azure. This can be done in the settings of Windows Admin Center. If you haven't done this yet, the wizard will guide you through. After this is done you can go to the Azure Backup Extension in Windows Admin Center and sign in. You can now configure Azure Backup directly in Windows Admin Center.
This will Azure Backup client on Windows Server and as well as in Microsoft Azure. It will create the Recovery Services Vault and the necessary resources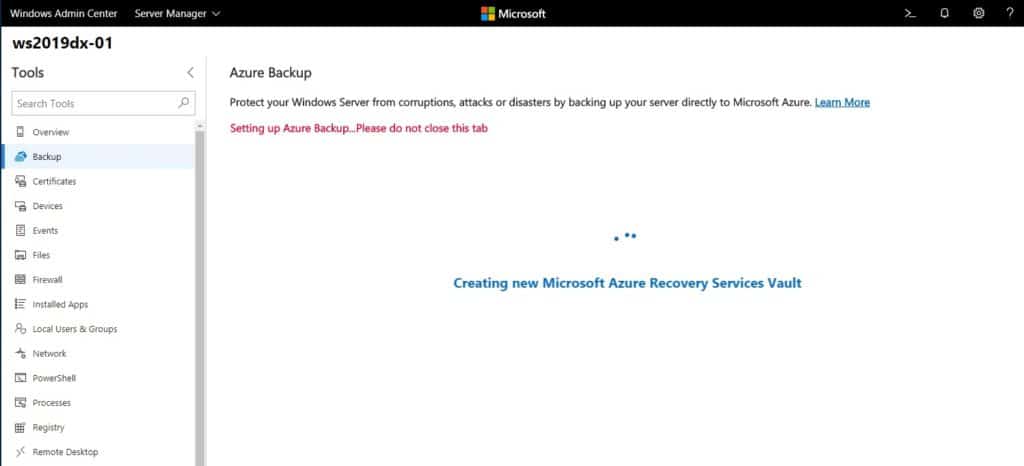 Register Recovery Services Resource Provider
If you get the error message "Error Failed to create Microsoft Azure Recovery Services Vault. Detailed error: Das Abonnement ist nicht für die Verwendung des Namespace  Microsoft.RecoveryServices" registriert." You will need to register the Recovery Services Resource Provider in you Azure Subscription.
Configure and Recover from Azure Backup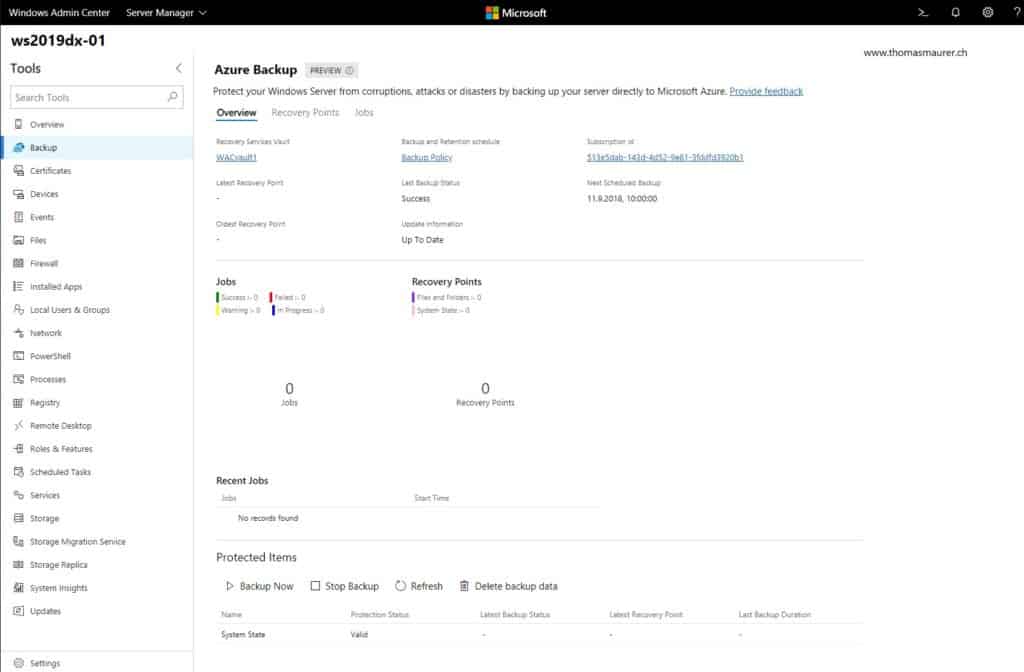 After Azure Backup is fully configured, you can see the configuration, the latest recovery points and you also will be able to recover data.
I hope this post was helpful and showed you how simple it is to back up your servers to the cloud using Windows Admin Center and Azure Backup. If you have any questions, feel free to leave a comment.
Configure Azure Hybrid Services in Windows Admin Center Video Series
I have created a short video series which shows how to set up the Azure Hybrid services directly from Windows Admin Center. You can start with the intro here and then follow the different videos, and check out our overview blog about Configure Azure Hybrid Services in Windows Admin Center.
Besides, you can also have a look at my other blog post about how to set up Azure hybrid cloud services.
Also, check out my blog post about Microsoft investments in Windows Server 2019. You can download Windows Admin Center here. If you have any questions, feel free to leave a comment.
WAC is also part of the Azure Stack HCI solutions, check out my blog about it.
Tags:
Azure
,
Azure Backup
,
Azure Backup in Windows Admin Center
,
Azure Stack
,
Azure Stack HCI
,
Cloud Backup
,
Microsoft
,
WAC
,
Windows Admin Center
,
Windows Server
,
Windows Server 2016
,
Windows Server 2019
,
Windows Server Azure Backup
,
Windows Server Cloud Backup
Last modified: September 12, 2019