As some of you may know, I am giving a lot of presentations using PowerPoint on my Surface Pro or my Surface Book.  And since I am using Surface devices, I also added a Surface Pen to my setup. I can draw on my screen in meetings or take notes. And the Surface Pen does a great job inking, drawing, and taking notes, especially when using Windows Ink on Windows 10. But you can also use the Surface Pen as a PowerPoint remote.
A couple of weeks ago, I was presenting at the Microsoft Tech Summit Switzerland, and I realized that my USB clicker was empty. I could not find a battery replacement that quickly before my session started. Fortunately, I remember a new functionality Microsoft added a couple of weeks or months ago to PowerPoint and the Surface Pen. Since you can pair the pen with your computer to use some cool features in Windows 10, like starting apps by clicking the back of the Surface Pen, the Microsoft Office team took advantage of that.
Use the Surface Pen as a PowerPoint clicker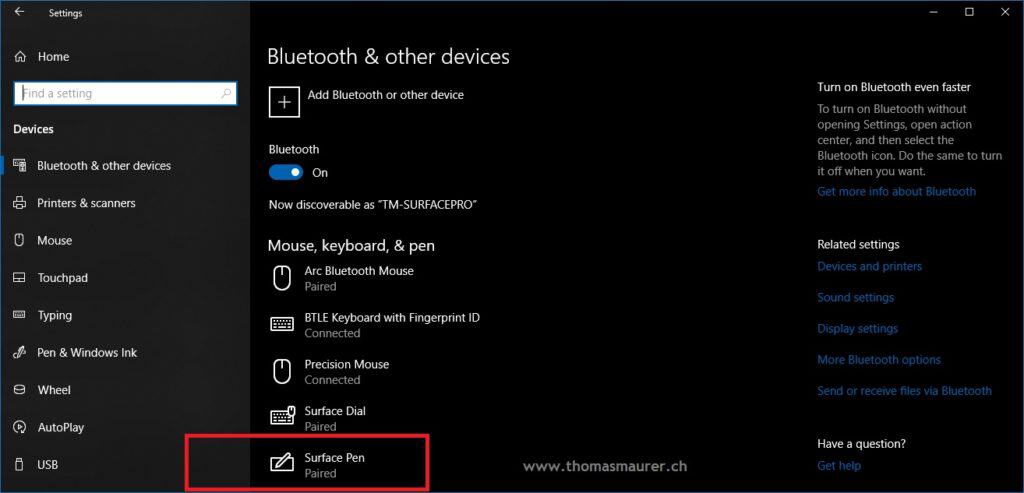 To use the Surface Pen as a PowerPoint clicker, you need to pair it using Bluetooth. When you are running Microsoft PowerPoint in Presenter Mode, you can start using the Surface Pen as a PowerPoint Remote. You can use your pen as a clicker or as a remote for PowerPoint. If you are doing a presentation and you want to jump to the next slide, press the back of your pen once. If you're going to jump back to the previous PowerPoint slide, hold the button at the end of the pen, and PowerPoint will switch to the previous slide.
I know this is a pretty small feature, but it can turn out to be a very cool presentation saver!
If you want to know to set this up, check the Microsoft Office support page: Use your digital pen as a slide-show clicker
Tags:
g
,
Microsoft
,
Office
,
Office 2016
,
Office 365 ProPlus
,
Pen
,
PowerPoint
,
PowerPoint Clicker
,
PowerPoint Remote
,
Surface
,
Surface Pen
,
Surface Pen PowerPoint Clicker
,
Surface Pen PowerPoint Remote
Last modified: February 21, 2020