Last week I got the Microsoft Surface Precision Mouse delivered. The Surface Precision Mouse will become the replacement mouse for my Microsoft Sculpt Mouse, which I used for the last couple of years. Now I want to give you some impressions about the Surface Precision Mouse, since I am very happy and very surprised about the feature set.
First of all the Microsoft Surface Precision Mouse feels awesome, very high quality and it is very comfortable in your hand. It feels very precise and you get very quickly used to it.
Now let me write about some extra features you might didn't know about. You first get a button to configure the scroll wheel in two different speeds, one feels very light and fast and the other one is slower and is more resistant, so you can choose what you like more and switch between them, depending on your task.
Of course you get some extra buttons which you can customize with different shortcuts, for example to open the Windows 10 Tasks View or other applications. You can also customize the buttons depending on the application you are working with.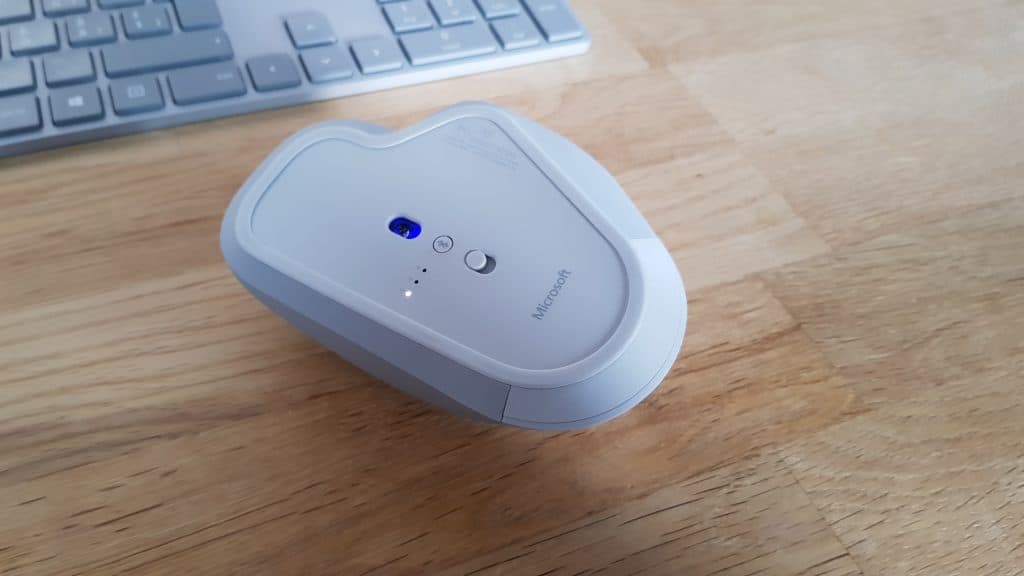 By already having the perfect mouse, in terms of feeling, comfort, precision and customizability, you get a really cool extra feature. The Surface Precision Mouse gives you more multi-tasking power by allowing you to work seamlessly across up to three computers, supports both Bluetooth and wired USB connections. You can pair your Surface Precision Mouse with three different devices and you can manually switch between them with the button on the bottom of the mouse, or you can use something called Smart Switch.
Smart Switch on the Surface Precision Mouse can be enabled by using the Microsoft Mouse and Keyboard Center. It allows you to setup the workplace layout in the app and now you can move the cursor to the border of the screen and the mouse will seamlessly switch to the other device. So if you are working on your desktop and you have your notebook right next to it, you can easily move the mouse from one device to the other.
Overall I am super happy with the new device!
Surface Precision Mouse Specs
The mouse also works with Windows 7, Windows 10, Windows 8.1 and macOS devices as long as they support Bluetooth 4.0 or higher.
 
Interface
USB 2.1, Bluetooth® Low Energy 4.0/4.1/4.2
Dimensions
4.8 x 3.05 x 1.7 (122.6 mm x 77.6 mm x 43.3 mm)
Wireless Frequency
2.4GHz frequency range
Weight
4.76 ounces (135 grams) including rechargeable batteries
Buttons
6 buttons, including right and left click and scroll wheel button
Battery
Rechargeable lithium ion battery (included)
Design
Ergonomic design with side grips
Battery Life
Up to 3 months
Scrolling
Smooth or magnetic detent customizable horizontal and vertical scrolling1
Color
Gray
Tags:
Hardware
,
macOS
,
Microsoft
,
Mouse
,
Percision Mouse
,
Review
,
Surface
,
Surface Percision Mouse
,
Windows
,
Windows 10
Last modified: August 18, 2018