Happy New Year everyone! I often get asked about how to get started with Microsoft Azure, and what is the best way to learn cloud computing and Microsoft Azure. So, I thought I put this in a simple blog post, especially for those who made some new year's resolutions. In this blog post, I will try to give you a quick look at how you can get started to learn Microsoft Azure in 2022 and the cloud computing era.
Get Azure hands-on experience
There is nothing better than hands-on experience to learn about a subject. What many people don't know, there is a free Azure account offering which allows you to try out Microsoft Azure. Your Azure free account includes a limited quantity of free services for 12 months, plus over 40 Azure services which are always free. Within these limits, you have the flexibility to use free services in various configurations to meet your needs. If you sign up for a free Azure account, you also get $200 USD of Azure credit which you can use in 30 days.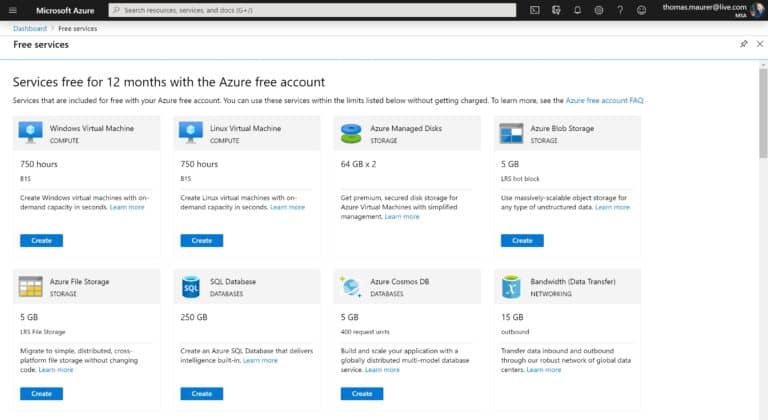 To learn more, see the Azure free account FAQ
Create your Azure free account today and get started with 12 months of free services, plus over 40 services which are always free!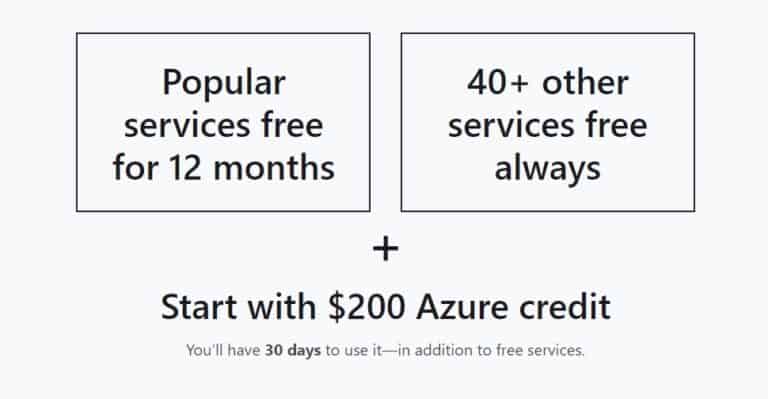 Use Microsoft Learn to learn Microsoft Azure in 2022
Sometimes it is not that easy to get hands-on experience on Microsoft Azure since some of the services cost money or you just can't find the right project to work on. Microsoft Learn provides you with various learning paths depending on your job role or the skills you are looking for. Most of the learning paths give you a hands-on learning opportunity so that you can develop practical skills through interactive training using free sandboxes.
Microsoft Learn is free! You get instant in-browser access to Microsoft tools and modules; no credit card required, and with that is a terrific way to learn Microsoft Azure in 2022.
Microsoft Learn also offers a learning path to learn Microsoft Azure Fundamentals and describe core Azure concepts, with the following modules:
This is also a fantastic way to prepare for the Microsoft Certification Exam AZ-900 Microsoft Azure fundamentals.
Up your game with a module or learning path tailored to today's IT Pro, developer, and technology masterminds and designed to prepare you for industry-recognized Microsoft certifications.
Become Microsoft Azure Certified
It can be hard to know what to learn, because cloud computing and Microsoft Azure are such large fields. I often recommend picking, preparing, and taking a Microsoft certification exam and becoming Microsoft Azure certified. This is not only helpful for obvious reasons like better changes to find a job, a promotion or a salary increase, but also gives you a great overview of the skills you need depending on your job role. Most of the Microsoft certifications are based on job roles, so you can pick between certifications such as Azure Developer, Azure Administrator, Azure Security Engineer, Azure Solutions Architect, and many more, depending in which field you want to work in.
Microsoft Azure certification exams are also a great way to learn and verify your skills. A couple of months back, I wrote a series of blog posts on why you should become Microsoft Azure certified, how you prepare for Microsoft Azure exams, and how you take and pass Microsoft certification exams. Taking the new role-based Microsoft certification exams will help you to find the right topics and structure to learn, depending on your current or future job role you are looking for.
Earn certifications that show you are keeping pace with today's technical roles and requirements.
If you are just getting started with Azure, look at the AZ-900 Microsoft Azure Fundamentals exam. You can also have a look at my experience with the different Azure exam certifications:
If you are having difficulties picking the right certification exam, check out my blog post: How to pick the right Azure Exam Certification path.
More resources to learn Microsoft Azure in 2022
There are a couple of more resources I want to point you to, to get started and learn Microsoft Azure and cloud computing, not just technology related but also how to set up your organization and more.
Conclusion
I hope these resources give you a great summary of how you can start learning Microsoft Azure in 2022. If you have any questions, or you feel that some resources are missing, let me know in the comments. Also, subscribe to my blog to learn about the latest updates.
Tags:
2022
,
Azure
,
Cloud
,
Cloud Computing
,
Learn
,
Learn Azure
,
Microsoft
,
Microsoft Azure
Last modified: January 30, 2022