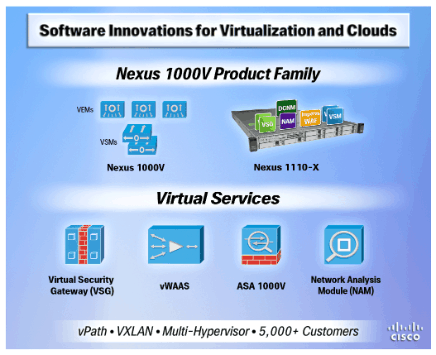 It's now early Saturday morning in Switzerland and I'm up because I had to go to university this morning and in the break I was checking my RSS feeds and saw two blog post from my Irish Microsoft MVP fellows Aidan Finn (MVP Virtual Machine) and Damian Flynn (MVP System Center Cloud & Datacenter Management) about the new Cisco Nexus 1000v for Hyper-V with Microsoft System Center Virtual Machine Manager integration.
What is the Cisco Nexus 1000v
Cisco Nexus 1000V Series Switches provide a comprehensive and extensible architectural platform for virtual machine (VM) and cloud networking. The switches are designed to accelerate server virtualization and multitenant cloud deployments in a secure and operationally transparent manner. Integrated into the Windows Server 2012 Extensible Switch, and fully compatible with System Center Virtual Machine Manager 2012 SP1, the Cisco Nexus 1000V Series provides:
Advanced virtual machine networking based on Cisco NX-OS operating system and IEEE 802.1Q switching technology
Cisco vPath technology for efficient and optimized integration of virtual network services
Tight integration with System Center Virtual Machine Manager 2012 SP1
Layer 2 Switching with Transmit side Rate Limiting
Security Policy Mobility, inbuilt support for Private VLANs with local PVLAN Enforcement
Provisioning Port Profiles with deep Integration with SCVMM
Traffic Visibility, including VM Migration Tracking, NetFlow v.9 with NDE, Cisco Discovery Protocol v.2
And more…
You can get more information in a Cisco WebEx Webcast about the Nexus 1000v.
Tags:
Cisco
,
Hyper-V
,
Microsoft
,
MVP
,
Nexus
,
Nexus 1000v
,
Nexus 1000V for Hyper-V
,
SCVMM
,
System Center
,
System Center 2012 SP1
,
Virtual Machine
,
Virtual Machine Manager
,
VMM
,
VXLAN
,
Windows Server 2012
Last modified: January 7, 2019