Another year ends and I am ready for a new one to start. Since Christmas time is not the busiest time of the year, I always find some time to review my year. I really had a great year and I had the change to meet, talk and work with some really great people from all over the world. I really tried to summarize this year in this blog post, but there is just not enough space to cover it all.
I am now currently working three years for itnetx and my job as a Cloud Architect and Consultant takes me still to the most beautiful places in Switzerland and Europe. Even after three years it is just great to work with such great and talented people and see how things are moving forward.
During the Microsoft Community Open Day 2014 I had the chance to meet a  lot of people from Microsoft Germany and other DACH MVPs as well.
In April I had the chance to visit my friend in Thailand. I really enjoyed Thailand, great food, nice weather and friendly people.
In May 2014 I was awarded by Cisco with the Cisco Champion 2014 award. This was a great honor and I really enjoyed the new connections I got inside Cisco.
2014 was also the year to move to a new flat, well not as big as a step you might think, but still a lot of work.
Not only I moved in 2014, also itnetx moved to a new and bigger office in Bern. The new location is great with a great city and mountain view.
At E2EVC 2014 in Brussels I had the chance to deliver some overview sessions about the Microsoft Cloud OS stack, including things like System Center, Software-Defined Storage and Networking, Azure Pack and of course Hyper-V, together with Michael Rüefli (Microsoft MVP)
Talking about itnetx, during the summer time, itnetx, inovativ Belgium and inovativ Netherlands met in Amsterdam to discuss some topics on the Microsoft Cloud OS and sharing some knowledge. This was great, since I had the chance to meet some of the best experts in Europe around that topic.
If you follow me on some social media sites like Twitter, you know that I love good food. Of course I had some pretty good food in 2014, so if you are interested not only in Cloud OS but also in great food, you just have another reason to follow me on Twitter.
2014 was also the year of the FIFA World Cup, unfortunately Switzerland lost against Argentina.
The Cloud OS Network (COSN) in which itnetx is a part of, brought me another trip to Amsterdam for a great training and meeting with Microsoft Hosting people and partners.
2014 also brought me some great new gadgets like the Surface Pro 3 or the Nokia Lumia 930.
September was the time of System Center Universe Europe 2014 in Basel close to my home town. I had the chance to deliver two sessions about the Cloud OS networking stack together with Walther Dey (Former Cisco) and Michel Lüscher (Microsoft). You can watch the session recordings on my blog or Microsoft's Channel9.
In the summer 2014 I also finished the last semester of my Master of Advanced Studies in Business Engineering and Management. Now I am currently working on my master thesis.
Another great event I have been invited to was VeeamON 2014 in Las Vegas. This was the first Veeam conference and in my opinion this was just great. Bringing a lot of experts from around the world on site and talking about different Datacenter availability solutions is just great.
At E2EVC Barcelona 2014 I had the chance to deliver another session about Disaster Recovery using Azure Site Recovery and Hyper-V Replica. After that I had some time to relay in Barcelona and meet some friends before TechEd Europe 2014.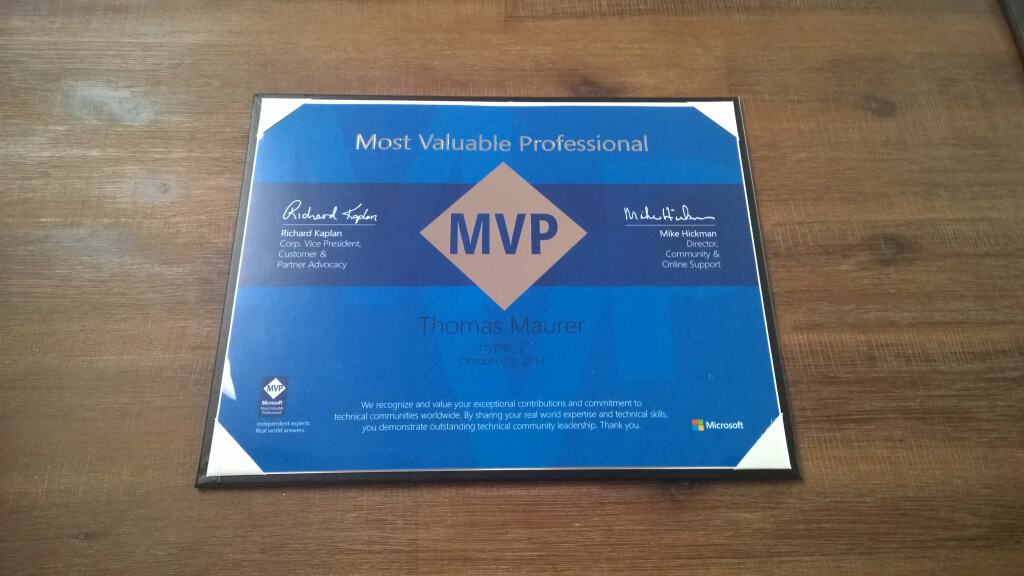 In October I was again awarded with the Microsoft MVP Award for the third time in a row after 2012 and 2013, which is a great honor.
Some of the work I really enjoyed in 2014, was the work with service providers and building solutions form them using the Cloud OS stack with Azure Pack. It is great to help customers to build new solutions and business and cloud offerings.
One of the highlights as always is the Microsoft MVP Summit in Redmond (Seattle). It really helps to meet other people working on the same topic and talking to the Microsoft Product Groups about the current release as well as on the on going development.
The last conference I was speaking, was the MMS 2014 (Mindwest Management Summit) in the Mall of America in Minneapolis. I talked about Fabric Management with System Center Virtual Machine Manager and Disaster Recovery using Azure Site Recovery Manager.
My last stop in 2014 took me to New York where I met two of my friends and spend some days exploring the city.
And this is my last gadget I got in 2014, the Microsoft Band. I was really exited about this little device. Since I started to do some more sports and I still had this first generation Nike Fuel Band I was happy to get this alternative.
Another great thing I could to in 2014 was working with my partners and sponsors in several different projects and webinars. I really have to thank all my partners here like Veeam, Savision, Altaro, 5Nine and StarWind Software.
Overall 2014 was a great year for me and I really have to thank so many people which are helping, motivate and inspiring me every day, my friends, family, colleagues, bosses, partners, customers, and my girlfriend. I also have to thank all the readers of my blog, my followers on twitter and other social media sites and all the people how makes the effort running a blog and investing so much time in it totally worth it.
I wish you all a happy new year and a great start in 2015.
Thomas
Tags:
2014
,
Amsterdam
,
Barcelona
,
Basel
,
Bellevue
,
Berlin
,
Bern
,
Brussels
,
Cloud
,
Colonge
,
Firends
,
Friends
,
Happy New Year
,
itnetx
,
Las Vegas
,
Microsoft
,
Minneapolis
,
MVP
,
MVP Summit
,
My 2014
,
Myself
,
New York
,
Presenter
,
Seattle
,
Speaker
,
Switzerland
,
Thailand
,
Travel
,
Work
Last modified: January 7, 2019