This week Microsoft released the Windows 8 Consumer Preview and the Windows Server 8 Beta. You can get the software here:
Windows Server 8 brings a lot of new features to Hyper-V and Clustering. I will try to get some more information and how-to's about the new features in the next couple of days.
Here is a small guide how you can setup a basic Windows Server 8 Hyper-V Clsuter via iSCSI. This covers only basics and should help users to setup a Hyper-V Cluster for testing very quickly.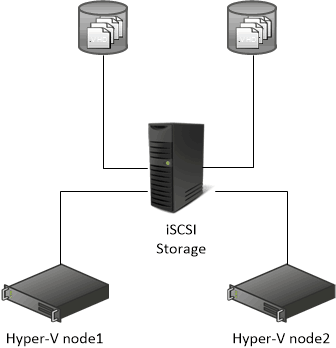 Setup the Hyper-V Hosts
Configure the Hyper-V hosts with Hostname, IP Address, Domain
I still create the Cluster with the following Network Adapters

| | |
| --- | --- |
| Network Adpater | Traffic |
| Management | Domain, RDP,… |
| VMNET | Network for Virtual Machine traffic |
| LiveMigration | Live Migration traffic |
| CSV | CSV traffic |
| ISCSI01 | iSCSI traffic |
| ISCSI02 | iSCSI traffic |

Add the Hyper-V role, the Failover Cluster Feature and the MPIO feature.
You can do this via Server Manager or via Powershell

Add

-

WindowsFeature Hyper

-

V
Add

-

WindowsFeature Failover

-

Clustering
Add

-

WindowsFeature Multipath

-

IO

Install the latest patches via Windows Update
Configure the Hyper-V Virtual Switch for your Virtual Machine Network. (You can do this via Hyper-V Manager or PowerShell.

Get-Command

 –Module Hyper

-

V

Enable MPIO support for iSCSI devices

Connect the iSCSI storage via iSCSI (This works like in Windows Server 2008 R2)

Create Cluster
This is a very small how to how you can create a Hyper-V Cluster with Windows Server 8 beta. Basically it is not really different to Windows Server 2008 R2 or Hyper-V R2, but it brings a couple of great new features to Hyper-V and Failover Clustering.
Tags:
Beta
,
Cluster
,
Hyper-V
,
Hyper-V Cluster
,
Microsoft
,
Windows Server
,
Windows Server 8
Last modified: March 3, 2012