last week my HP Elitebook 8460w arrived and I thought I should write a little review.
System Configuration
Sadly the HP Elitebook 8460w is not available in Switzerland, so I had to order it in the US and this is the configuration I ordered.
HP EliteBook 8460w Mobile Workstation
Intel® Core™ i7-2630QM Processor (2.0 GHz, 6 MB L3 Cache)
Mobile Intel QM67 chipset
14.0-inch diagonal LED-backlit HD+ anti-glare (1600 x  900) with 720p HD Webcam
AMD FirePro™ M3900 w/1 GB gDDR3
8GB 1333 MHz DDR3 SDRAM (2D)
500 GB 7200 rpm 2.5-inch hard drive
DVD+/-RW SuperMulti DL Drive
DualPoint (TouchPad and PointStick)
Intel Centrino® Ultimate-N 6300 (3×3)
Bluetooth® Wireless Technology 2.1
TPM & Fingerprint
HP 9-Cell 100 Wh Li-Ion Battery
56K v.92 high speed modem
2x USB 3 ports
1x USB 2 always on port
1x USB/eSATA combo port
HP Elite Support with limited 3 year standard parts and labor warranty 3/3/3
I also replace the 500GB Harddisk with an OCZ Vertex 2 (240GB).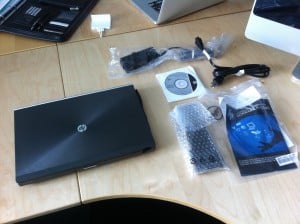 Design and Durability
Of course design is a subjective thing. But in my opinion is a really nice upgrade from the previous model. Very clean and industrial design, and the "gunmetal black" is a good choice. I also like the back with a radial-brushed, gunmetal finish and backlit jewel HP logo.
The quality of the HP Elitebook 8460w is just impressive. As a former MacBook Pro user, I am really happy with quality and the durability of the 8460w. HP sends here a clear message to his competitors, about quality of business notebooks. The Elitebook is made out of magnesium and aluminum materials, and meets the military standards (MIL-SD 810G) for drop, vibration, dust, altitude and high temperature.
Everything seems to be at the right place and all buttons and the whole chassis is feeling very "high-class". The only thing which makes a cheap impression is the optical drive which looks a bit like cheap plastic, but I don't think this will be a big issue.
HP removed all the little doors on the bottom. The new Elitebook series has a big magnesium cover on the bottom, which lets you easily access harddrive, RAM and other things. And as the rest of the notebook this makes a very solid impression.
The size and the dimensions are not the best in class. The Elitebook is around 3.2 cm thick, compare to the MacBook Pro which is around 2.5 cm this is quite a bit. But it sounds like more than it is. The weight is in my opinion, with something around 2kg, very good for a mobile workstation.
Keyboard
HP changed the keyboard design of the ProBook and the Elitebook to a MacBook like chicklet style. I think this is a huge improvement to the previous generation of Elitebooks. There is more space between the keys and this makes is very easy to type. The keys feel very smooth and there are no sharp edges, they also have a slightly gritty texture and a subtle curvature which make a comfortable type experience. The only downside is that there is no backlight keyboard option on the 8460w, the 8560w and the 8760w have a backlight keyboard.
HP also removed the touch sensitive buttons and added real hardware quick launch buttons. One for turn WiFi on and off, another one for quick web access and the third for mute and unmute.
Touchpad and Pointing Stick
HP also redesigned the touchpad from scratch. The touchpad is now a bigger, multi-touch glass touchpad. It's nearly as good as the Apple glass touchpad. If you move from a MacBook to a Windows notebook, the HP Elitebook trackpad is one of the only trackpads which gives you a similar experience.
Business users which like a Pointing Stick instead of a touchpad will get this option. With a simple double click on the upper left corner of the touchpad you can turn it off. There is also enough space between the keys and the pointing stick.
Display and Audio
About 14 inch screens is always a big debate. I am not a photographer or have anything to do with colors. But I think it's the screen it's okay for a 14 inch. Most of the time I use the screen with a brightness of 50%, so it's really enough bright if you turn it to 100%. The contrast is average but I think it's much better than on the Lenovo ThinkPad T420 or the Elitebook 8440p. But if you are a graphic designer you maybe would prefer an Elitebook 8560w or an 8760w with a Dreamcolor display.
HP uses SRS Premium Sound branding for built-in stereo speakers. The sound quality is quite good for a business laptop. But of course multimedia notebooks have much better speakers.
Ports and Accessories
As usual HP offers a lot of ports and options in his business notebook line.  Besides the ports and slots I mention, HP offers pretty cool accessories like the well know HP docking stations and external monitor solutions. The HP Elitebook supports multiple display output (AMD Eyefinity) up to four external monitors, and lets you use a DisplayPort-to-HDMI converter for the display signal and sound.
The Elitebook 8460w comes standard with a 6 cell battery. You can replace the primary 6 cell battery with a 9 cell one, or add on a second 8 or 12 cell battery to greatly extend battery life.
Left
1x power adapter port
1x firewire port (1394a)
2x USB 3.0 ports
1x SD/MMC slot
1x Express Card/54 slot
SuperMulti DL; DVD+/-RW
Right
1x stereo microphone in
1x stereo headphone/line-out
1x eSATA/USB combo
1x USB 2.0 charging
1x DisplayPort
1x Security lock slot
Back
1x RJ-11 port
1x VGA port
1x RJ-45 port
Battery slot
Bottom
1x docking connector (for HP docking stations)
1x secondary battery connector
Display
HP Night Light (a LED light above the display)
HD webcam
Internals
Intel Core i5 and i7 2. Generation CPU's
Up to 16GB DDR3 SDRAM (2 slots)
Mobile Intel® QM67 Express Chipset
AMD FirePro™ M3900 with 1 GB dedicated DDR3 video memory
Bluetooth 2.1
Intel Centrino 802.11a/b/g/n (3×3)
TPM 1.2 Embedded Security Chip
HP Fingerprint Sensor
Integrated Smart Card Reader
HP 3D DriveGuard
Heat and Fan Noise
The Elitebook stays always very cool, much cooler than my MacBook Pro which was very hot on the spots where the CPU and the GPU was. I think this is mostly because of the thicker design and it's also a sign of good quality materials.
I can't really say something about the fan, it's mostly really silent and I can't hear any noises.
Wireless
I did not really think about wireless performance before, but with the integrated Intel Centrino Ultimate-N 6300 (3×3) is a real benefit. I can see now new wireless access points which I could not see before, because they were out of range.
Battery life and Performance
A 14-inch mobile workstation is in my opinion all about battery life, and the 15-inch and the 17-inch are more like desktop replacements. HP did a very good job in terms of battery life on the 8460w. With my 9-cell battery and normal use (WLAN on, web browsing, display brightness 60%), I get something like 9-11 hours of batterylife without problems. I am also sure I could get more out of it, by activating power saving features. I am more than satisfied with battery life.
For its 14-inch size notebook this thing is a monster. Intel did a very good job with the second generation of Sandy Bridge CPUs even I don't have the fastest Core i7 option (i7-2630QM Processor 2.0 GHz, 6 MB L3 Cache) I still have enough power to even run Microsoft Hyper-V for demos on my notebook.
I would not really criticize the AMD GPU (AMD FirePro M3900), but it's the weakest part of the system. But I think for a 14-inch workstation with this battery life this is not a problem at all. If you need more graphics power you should move to the 15-inch and the 17-inch mobile workstation which have better graphic options but less battery life.
Replacing the normal HDD with a SSD is always a good choice. It needs less power, it is a lot faster and move my notebook around even its still running and don't have to worry about destroying the HDD. In my case I did not use the HP SSD option, I bought an OCZ Vertex by myself and replaced the HDD.
Here you can see the results of the Windows Experience Index.
Conclusion
The new Elitebook 8460w is more than I even expected. It is one of the best Windows based business notebooks in the industry. Sure it's not made for high graphics designer but its a good mobile workstation with an extremely strong battery life and more than enough CPU power. The build quality HP delivered is outstanding and reaches Apple MacBook Pros.
More information about the HP Elitebook 8460w here.
Tags:
8460w
,
EliteBook
,
Elitebook 8460w
,
Elitebook review
,
HP
,
HP Elitebook
,
HP EliteBook 8460w
,
Review
,
Windows
,
Windows 7
Last modified: June 24, 2011