Back in November I finally got my Microsoft Band after spending a lot of time try to find one in different stores in the US. Since then I have used my Microsoft Band every day and I was waiting for the first big update and the release of the Microsoft Health Dashboard to write my first review on the Microsoft Band since the web dashboard was one of the most critical and most important feature for the Microsoft Health platform. Yesterday Microsoft finally released the first major update to the Microsoft Band and Microsoft Health with a lot of improvements such as the new Health Dashboard and a Developer SDK Preview.
I was reading a lot of reviews from different only magazines which were trying to review the device, but in my opinion have never really used it or are just wearing some Apple glasses. Let me try to review some of the features of the Microsoft Band and how I use them a little bit differently from the professional reviewers. Of course since I am focusing a lot on the Microsoft platform I am not really neutral, as Swiss people normally are, but I try to give you a good review on the product.
What is the Microsoft Band and Microsoft Health
When I was reading some of the reviews done by professionals, I really saw that they didn't really get the point of the device. Microsoft is advertising the Microsoft Band a fitness band and not as a smartwatch, even the Microsoft Band got a lot of smartwatch features, which by the way are really good, it is a fitness tracker which helps you to collected more and more health data about yourself. The devices was made my some "fitness geeks" inside the Xbox division and what they in my opinion did, was creating a device for themselves. And this is why the Microsoft Band actually an absolutely great device, because it is made from people with passion and not from a marketing research team. As mentioned this is a fitness tracker but of course with some really great smartphone features.
The Microsoft Health platform on the other site is where all your health information collected come together. The platform is not only made for the Microsoft Band but for other vendors as well which can integrate into the Microsoft Health platform. Since I am using the Microsoft Band I started wondering why I didn't use a device or service like this earlier. We collect so much data about our environments but we do not really measure our health data and try to understand it. With Microsoft Health and the sync to the Microsoft HealthVault you can now get all your health data in one place. I also bought a Fitbit Aria smart scale which sends information about my daily weight to the Microsoft HealthVault. With the Microsoft Band and the Microsoft Health platform as well as the HealthVault I can now collect all my Health information and analyze them in one place.
Fitness Tracker and Workouts
The most important feature of the Microsoft Band is to measure your fitness and health. The Microsoft Band comes with a lot of sensors and functionality to measure your health, and it shows you have active you were. With the Microsoft Band you can keep track of different kinds of workouts such as running, cycling or just general workouts. I use it a lot when I play badminton to keep track of my heart rate and calories burned. All the data gets synced to the Microsoft Health platform so you can review it on your Microsoft Health apps on Windows Phone, Apple iOS, Android or on the new Microsoft Health Dashboard.
24-hour heart rate monitor: Gives you a better understanding of your calorie burn, sleep patterns, and peak and resting heart rate so you can perform at your best.
Run: Whether you're on the treadmill at the gym or outdoors in the rain or sun, you can view your run summary on your band with personalized metrics in the phone app including pace splits and heart rate.
Cycling: With the latest update Microsoft supports now a specific mode for cycling, which not only keeps track of your heart rate and calories but also on speed and your route using GPS.
Steps: Set a goal and track your progress. Microsoft Band calculates the calories you've burned and the distance you've traveled each day.
Built-in GPS: Measures the distance you've run and tracks your pace and route. Save your favorites to retrace your steps and challenge yourself later.
Calorie tracking: Count the calories you burn each day. View daily or weekly stats, set goals, and receive a virtual "high-five" when you reach them.
Guided Workouts: Fun and challenging workouts from fitness partners like Gold's Gym, Shape, and Men's Fitness with exercise prompts on the band and much more in the app.
Goal setting: Challenge yourself by setting daily step and calorie goals. Microsoft Band notifies you when you meet them so that you can stay motivated.
UV monitor: Get a quick read of the UV Index while you're out and about.
Sleep Tracker
I think one of the coolest and most interesting features is the sleep tracker. When you are going so sleep you just start the "sleep mode" and the Microsoft Band will check how long it took you to fall asleep, who long you slept, how many times and when you did wake up, how your heart rate was during that time, if you were in restful or just light sleep. So you can really find out how good or bad you sleep and probably can try different things to change your sleep behavior.
Smartwatch features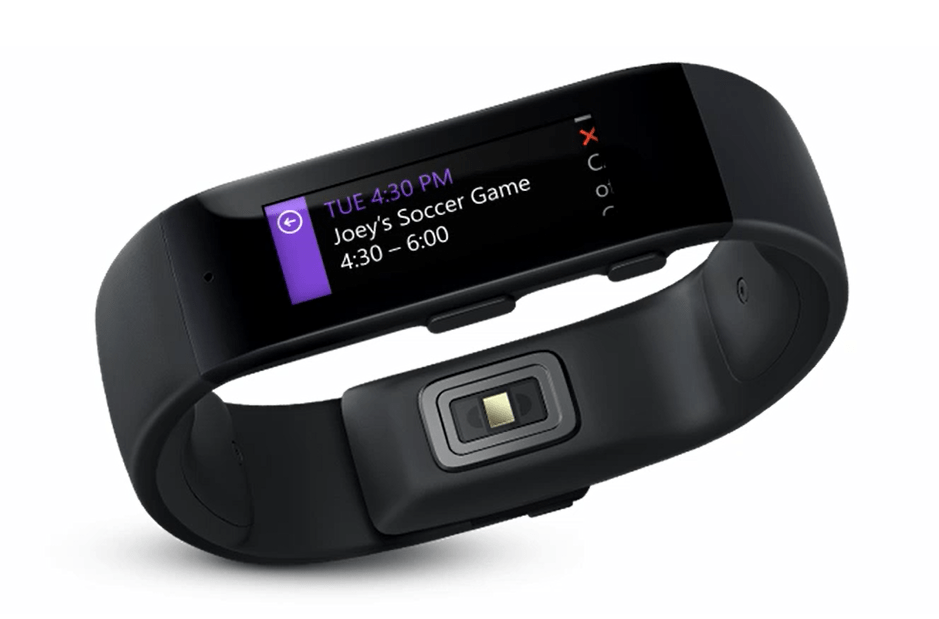 As I wrote before, Microsoft is advertising the Microsoft Band as a fitness band and not really as a Smartwatch, but it really is a Smartwatch and I think was one of the smartest moves in the whole campaign. When I hear the word smartwatch I always think about gadgets which will replace our old school watches and I don't think this will happen in the short term. Probably this is because I am Swiss but I think watches are not just some gadgets to show you some time, they are more kind of personal jewelry. Don't get me wrong I am not just talking about expensive watches, even cheap watches can be jewelry and help express yourself. I am not saying that we won't use smartwatches, because for some scenarios they really make your life easier, but I think they will be more of an addition to our watches we already have, instead of replacing them. For example on my right arm I wear a normal Swiss watch and on the left arm I wear the Microsoft Band where I had my Nike Fuelband before. So form a marketing perspective I like the word and the concept of additional "bands" a lot more, than thinking about smartwatches replacing our existing watches. But this is just my personal opinion.
The Microsoft Band comes with a lot of smartwatch features:
Text Messaging: Get your text messages right on your wrist.
Calls: See incoming call and voicemail notifications on your band.
Calendar: Microsoft Band stays in sync with the calendar on your phone, reminding you of important events throughout the day so you can be where you need to be.
Email: Monitor and preview email activity right on your band, so you don't have to pull out your phone in the middle of your lunch date.
Smart notifications: Choose which alerts you get on your wrist. Change the notification settings on your phone and your Microsoft Band will match.
Watch mode: Turn on "Watch Mode" to always display today's time and date without pressing any buttons.
Facebook & Facebook Messenger: Stay up to date on Facebook without having to check your phone. Get the latest posts, comments, photo notifications, and personal messages on your band.
Twitter: Tweets, mentions, retweets, messages, new followers. Set your preferences on your phone and see it all on your wrist.
Cortana: If you're using Windows Phone 8.1, you can take notes and set reminders with your voice using Cortana personal assistant.
Weather: Get real-time weather conditions and a 5-day forecast to plan your week.
Finance: Create a watch list for select stocks in your Microsoft Health app. View the latest ticker activity right on your wrist.
Starbucks: No need to reach for your wallet. Enjoy coffee on the go with your Starbucks card ready to scan at arm's length.
Timer & Stopwatch: Time your laps or your entire workout with the stopwatch. Set alarms to wake up silently or remind you to go for a run.
Do-not-disturb mode: Tap the icon on your band to turn all notifications off.
The features are great and they are not just here, they are well optimized for a device on your arm wrist. In my daily life I only use some of the features which are integrated. For example I really like the notifications you get from calls, messengers and text messages. For example if I receive a call during a meeting with a client, I can quickly check my wrist and see if the call is important or not and I can quickly answer it with a text message for example "I will call you back", or just press it away, without having to take the smartphone out of my pocket. Another feature I like is the Cortana integration. Cortana on your Windows Phone knows when your next meeting or flight is and helps you keep track of that by reminding you to leave to catch the flight or meeting. Another use case I use the Microsoft Band a lot is when I login to somewhere using Two-factor authentication, where I get a security code send as text message, which I can now see on my wrist without using my smartphone.
Overall I like the smartwatch features which are integrated but they are not my primary use case for the Microsoft Band or any smartwatch, since there are a lot of things a lot easier to do when you are using your smartphone.
Design and Hardware
Let's talk hardware and design. Well Microsoft did a great job fitting all these sensors inside the Microsoft Band, but of course adding so many sensors make the thing look bulky and the flat screen should be probably replaced with a curved screen. But basically that is all the criticism I have for the hardware design. The weight is absolutely okay and if you have used other fitness tracker before it makes not a difference. Microsoft promises around two days of battery life, for me it is most of the time even more. This is okay but of course I have used the first version of the Nike Fuelband which I had to charge every 4 weeks in average, and I thought charging my band every two days would be hard, but it wasn't. Since the Microsoft Band only takes a couple of minutes to charge the first 80% this is enough, so I charge it during the time I take a shower.
Software
With software comes all the beauty to the platform. Microsoft offers the Microsoft Health App to sync your Microsoft Band with your phone and with the Microsoft Health Cloud for Windows Phone, Android and iOS. In my opinion the app is great and helps you quickly find things. Of course the app wasn't the best place to make long term analytics, but for this you have the new released Microsoft Health Dashboard in the web.
Microsoft Health Dashboard
We had to wait for that, but Microsoft finally released the Microsoft Health Dashboard yesterday. The Microsoft Health Dashboard app is a web console if you will, where you get all the information coming from the Microsoft Band. You have different kind of views to view a specific day, week or month and compare your data. You can get a simple view of the steps and workouts you made or even an overview about your sleep behavior.
Microsoft HealthVault
As mentioned the Microsoft HealthVault is where all your health information comes together. Microsoft HealthVault is a trusted place for people to gather, store, use, and share health information online. Since the latest update you can now setup Microsoft Health to sync data directly to the HealthVault. For me the HealthVault becomes more and more interesting especially if I try to get more data in there such was weight information. For this I bought a Fitbit Aria Smartscale which uploads data to the HealthVault.
Availability
The Microsoft did lunch the Microsoft Band back in November 2014 without a big announcement. Microsoft just released it and made it available in the Microsoft stores months before the Apple Watch will be available. Unfortunately there are two problems, first of all the Microsoft Band is only available in the US and even there it is still hard to get since it is most of the time out of stock. You have to get on some waiting lists and wait to finally get it. One the software site Microsoft released the Microsoft Health app for basically all the mayor smartphone platforms such as Windows Phone, iOS and Android.
Feature Requests
I am pretty happy with the Microsoft Band and Microsoft Health, but of course I have some ideas and wishes for future releases.
Platforms – Microsoft has now several Health Platforms and apps, such as Microsoft Health, MSN Health, HealthVault and Xbox fitness, to just count a few. It would be great if they would move MSN Health and Xbox Fitness to the Microsoft Health platform.
Xbox integration – As mentioned, on your Xbox One you get Xbox Fitness, which is btw great especially if you are using Kinect. Microsoft should make Microsoft Health available over all platforms and integrate the in a single data store.
Friends – It would be great if you could add friends using the Microsoft Health to compete with them in workouts or other goals.
Badges and Competitions – Would be great if Microsoft would build something like an award system for the Health platform, so you get awarded for workouts and more.
Hardware – Even I like my first version Microsoft Band, it would be cool to have a v2 which has kind of a more improved design.
More Hardware – It would also be great if Microsoft also offers other products, such as smartscale and other health related gadgets.
Conclusion
Microsoft did a great job with the Microsoft Band and Microsoft Health. They not just created a cool gadget, they really created a product which helps people tracking their health and get more productive. I have used other trackers before like the first version of the Nike Fuelband and I also bought some Fitbit stuff for my parents, since Fitbit is available in German language. I have to say that I totally get the best experience in features and usability with the Microsoft Band, it is easy to use and configure and it shows you the information you need in optimized way.
Tags:
Android
,
Aria
,
Band
,
Cloud
,
Dashboard
,
Fitbit
,
Fitness
,
Gadget
,
HealthVault
,
iOS
,
Microsoft
,
Microsoft Band
,
Microsoft Health
,
Review
,
Smartwatch
,
watch
,
Web
,
Windows Phone
,
Workouts
,
Xbox
,
Xbox Fitness
,
Xbox One
Last modified: September 2, 2018