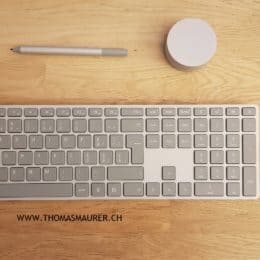 As you may know, the Surface devices are my work devices of choice since the first release of the Surface Pro back in 2013. I had a couple of different generations, like the Surface Pro 2, Surface Pro 3, the Surface Book, and my current daily driver, the Surface Pro (2017). The Microsoft Surface devices are quiet known now. But what a lot of people don't know is that Microsoft also creates some great Surface peripherals for your Surface or your PC. So I try to go through what devices and peripherals I am using with my Surface.
The Keyboard
When I am on the go, I am using the Surface Pro Signature Type Cover for my Microsoft Surface Pro. I decided to go with the grey Alcantara version because the grey matches the other Surface devices perfectly, and the Alcantara has this high-quality premium touch. I always liked the Surface Type Covers, and Microsoft improved them a lot over the past years.
If I am at home and I connect my Surface Pro to the Surface Docking Station, which connects it to two external monitors. I use the Microsoft Modern Keyboard with Fingerprint ID. This keyboard is the successor of the Surface Keyboard and brings the great feeling and quality from the Surface Type Cover and the Surface Book keyboard to the desktop keyboard world. I especially like that it can be not only be connected wirelessly using bluetooth but also wired using USB. The USB port also lets it charge the keyboard when the battery after four months goes down or in offices spaces where you want to use a wired keyboard. The big thing about the Microsoft Modern Keyboard is the integrated Fingerprint sensor, which allows you to use Windows Hello to login to your PC.
The Mouse